Last Sunday, Roy and Robin came over to play some 3-player ASL. It was left to me to come up with a quick, simple, 3 player ASL scenario. The scenario I chose was
DASL-002 "Berserk!"
.
This scenario depicts an infantry only fight within the built up, rubbled-down environment of Stalingrad. The German player needs [u]more[u] unbroken squads in building dL1. The German has 2 group for squads, one of 6 467 squads, and another of 13 467 squads. The Russians defend with a generous allotment of 6 628 squads, 9 458 squads, and 2 447 squads, but with the burden of being attacked from both sides. The scenario also has a little spice; the German 8-0 leader in the group of 6 squads will go Berserk (along with all units that are in/adjacent to him) in a German PFPh in which he rolls a dr of 1 (we were playing with German balance in effect which makes the leader go Berserk on a dr =< to the turn number. Personally, I'm not sure that this necessarily helps the Germans at all).
Roy played the German group of 13 squads, Robin played the group of 6 squads, whilst I defended with the Russians. I printed out (2) VASL images of the DASL boards at the local 7-11, and found the size of the map hexes to be quite an ideal size to be playing on. I set up the Russians with the goal of buying time, and instead of setting units upstairs in the bE2 'deathtrap' building, I put platoons of 628 squads in bE1, bD1 in a reverse-slope manor. Any Germans entering this building would take 36 FP !! I also set up squads in dK1 and dL0 to entrench so that there would be a path of cover for my 628s to withdraw when the time came. Roy established 2 MG nests, while Robin looked to creep forward, presumably cutting down the amount of open ground that the Berserkers would have to charge across.
Early on, the German MG nests were very successful for him, whilst most of my fire attacks had a minimal impact on the Germans. Lengthy ROF tears ripped up my squads, and I lost about half my squads in the first 3 turns. I did have a couple of successful sorties in this time, and was able to kill through FTR a few German squads, which meant that the Germans now had a minimum of squads to exploit the successes of the MG nests. This then forced them to relocate, and I was able to re-group my remnants in the VC building.
The German 8-0 broke in turn 4, and went Berserk in turn 5, along with 1 of the MG nests, which at that time was adjacent !! So instead of charging the cream of the German OoB across open ground towards the heavily defended building, Robin chose to charge an equidistant 6+1 Russian leader (which was in an exposed forward position from earlier instigating FTR on a group of broken German units. Whilst this was probably the correct choice (given the opposing FP), it took some vital time away from the Germans, which now had to rush the VC building. But my 10-0 Commissar (I exchanged the 8-1 Russian leader for) just kept on rallying the remaining Russian squads without skipping a beat. In the last German turn, a successful CC infiltration got 2 German squads into the building, giving them a realistic chance of victory, if they could survive and break a few Russian squads in the final turn. However, I managed to break both squads in the final Russian PFPh, which meant the Germans now had no chance to win.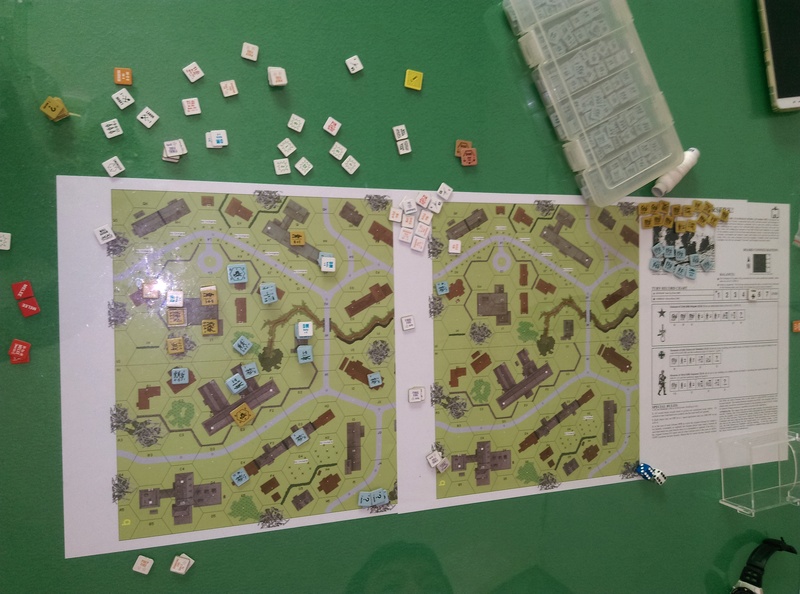 It was fun to play this scenario again after many years; I can't accurately recall the last time I played this scenario, but expect that it was back in 1990-1991.
John.

John Knowles




Posts

: 99


Join date

: 2017-05-02


Age

: 52


Location

: Wugu, Taipei County



---
Permissions in this forum:
You
cannot
reply to topics in this forum