Robin and I recently finished DaE-002 "The Bend In The Road". Robin played the attacking British, whilst I played the defending Germans. We had British balance in effect, which slightly decreased the VC requirements.
This scenario is essentially an interdiction mission for the British. To win, they need 16FP (14FP in our case, as we were playing with British balance in effect) of Infantry and their manned SW within normal range of and within LOS of Q15. The stipulation of normal range would come to be quite important.....
Robin attacked in a rather skirmish fashion, and used the Polders to good effect, but by leaving the Sherman Firefly in motion, this allowed the PzVG to stalk and knock it out, which left the remaining 3 Sherman Vs vulnerable to the near-invincible Panther. Ultimately all 3 were hunted down and wrecked. But Robin did at least manage to kill off 2 of my 658 squads with them before they departed.
This (along with me malfunctioning and X-ing out the HMG) really gave his surviving infantry a real chance of overwhelming my infantry, although the Panther remained a BIG thorn in the British side. Nonetheless, I thought Robin did quite an admirable job of assembling enough infantry firepower to be within contention of the Victory conditions.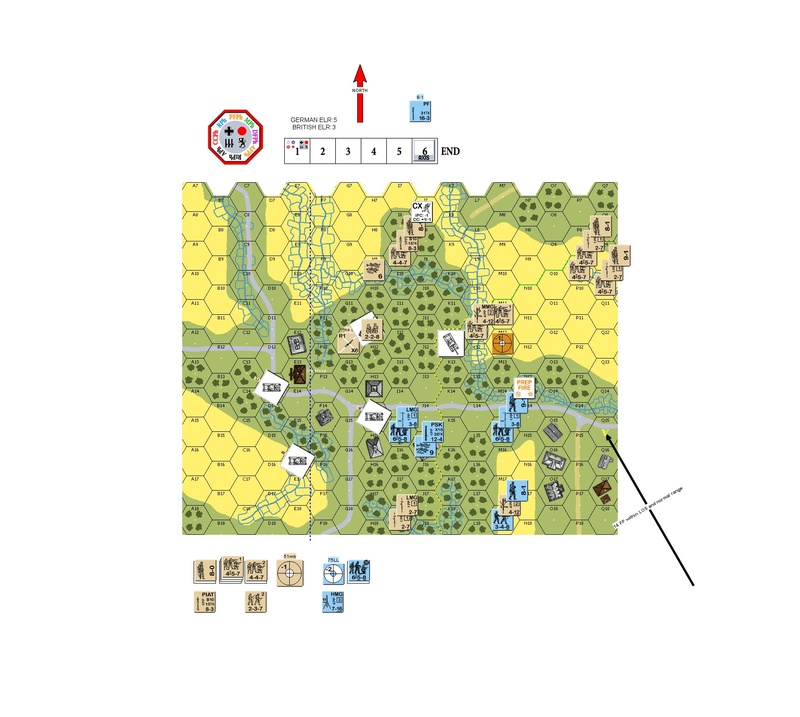 But in the final APh, Robin mis-calculates and advances a 457 in L11 to M11. It really needed to go to M12, as that is 5 hexes (normal range) from Q15, whilst M11 isn't. I'm guessing that Robin was preoccupied with thinking safety vs my squad and leader in M15 and overlooked the aspect of range to the VC hex. In spite of this, I made a hypothetical IFT DR vs m12, and found the squad breaking on a 1MC, so the Germans would have emerged the winner either way.
But the 2 lessons to take out of this playing were the importance of the Sherman VC's (Firefly) survival; once his 76LL tube is lost from the battlefield, the remaining Sherman Vs are easy pickings for the PzVG. And always be mindful of the VCs, even at the cost of a little safety. A slim chance is better than no chance at all.......
John.



Posts

: 77


Join date

: 2017-05-02


Age

: 50


Location

: Wugu, Taipei County



Historically the Firefly's are place in an overwatch role while the other Shermans roam about ..

.. and yes - being mindful of the VC (and all the various ways how that can be achieved) is an issue I am working on myself!



Posts

: 9


Join date

: 2017-05-04




---
Permissions in this forum:
You
cannot
reply to topics in this forum