ASL-015 "Trapped".
(End of Part 1)
Robin and I are currently playing this scenario, with him as Americans (plus balance) and myself as the Germans. It's been a topsy-turvy kind of Part 1, and I got to German 7 DFPh still with a chance to exit 10 squads, but in final fire, I failed 2 too many PTCs and only 8.5 were in position to exit the map for a win. With American balance in effect, my lost squads (8 in total) get replaced with 436 squads (and a lost 7-0 get replaced by a 6+1). The Americans losses in Part 1 were 4.5 squads and a 7-0 leader. One American 149 has also been generated (and survived) to participate in Part 2. The really noticeable feature is the big blaze in the middle of the map; there's every chance that  it will at some point completely cut the board in half.
(picture shows the end of part 1)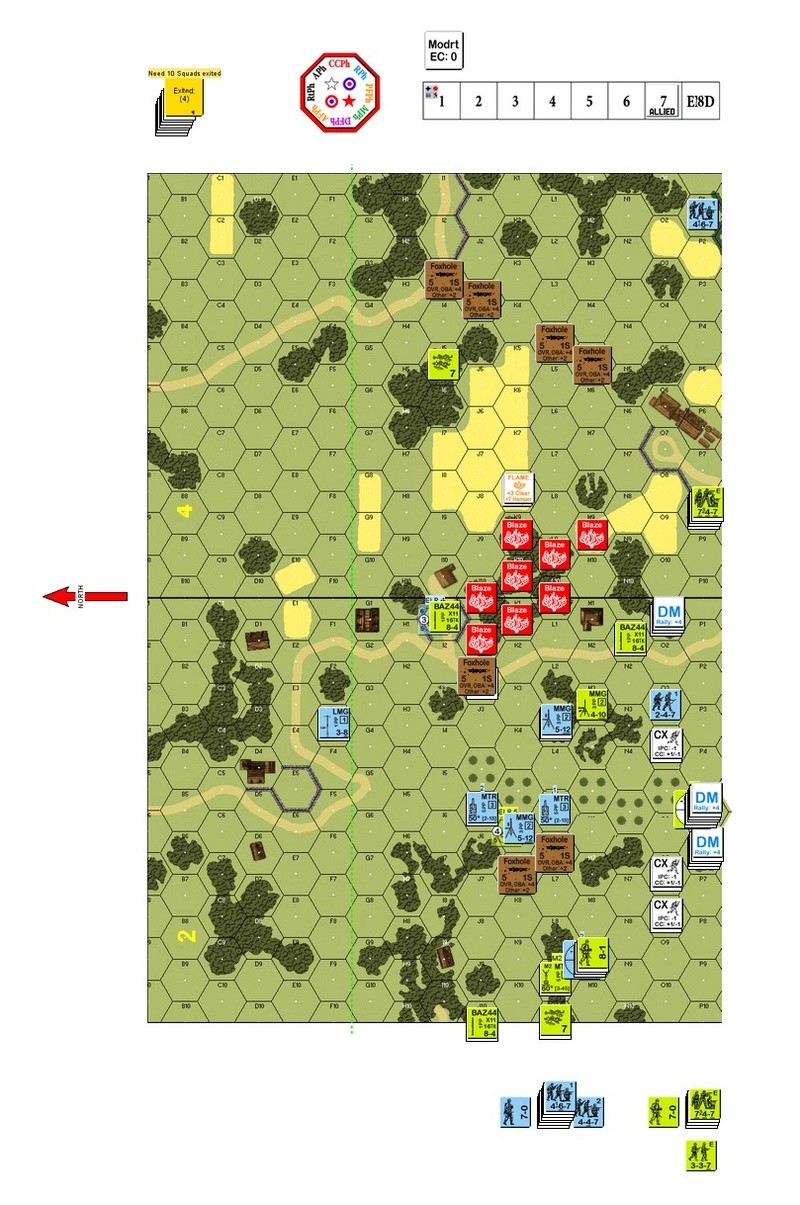 Posts

: 77


Join date

: 2017-05-02


Age

: 50


Location

: Wugu, Taipei County



ASL-015 "Trapped"
(End of Part 2)
Part 2 was challenging with the American balance in effect (losses replaced by 436s instead of 447s). On a 1mc, conscript units will disrupt on a DR8+ !!! So I deployed the 436s heavily, and did my best to attrition the Americans down as much as possble so as to make the last turn exit as simple as can be.
There was plenty of good and bad luck for both sides, the map was eventually cut in half by the spreading blazes, and in the last DFPh, Robin's last MMG shot needed to pin 2 squad equivalents, but only managed 1, and my Germans just managed to exit 10.5 squads in total.
Condolences to Robin; it did look like this game would be won by him, but I got just enough fortune to go my way. The scenario plays a bit like a Campaign Game in that survival (in Part 1 at least) is quite critical, and will add a new flavor to Robin's ASL experience.
John



Posts

: 77


Join date

: 2017-05-02


Age

: 50


Location

: Wugu, Taipei County




---
Permissions in this forum:
You
cannot
reply to topics in this forum